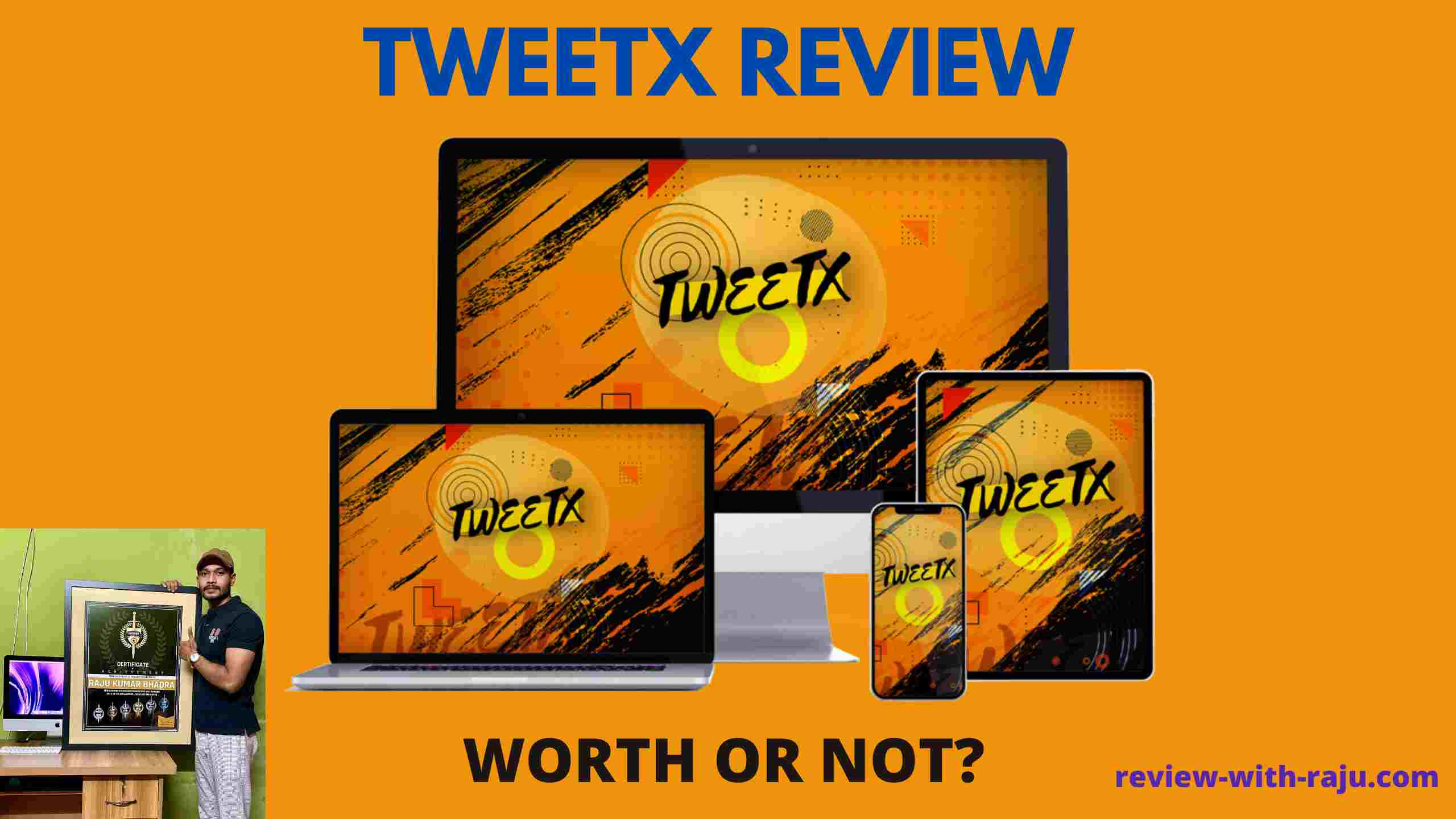 TweetX Review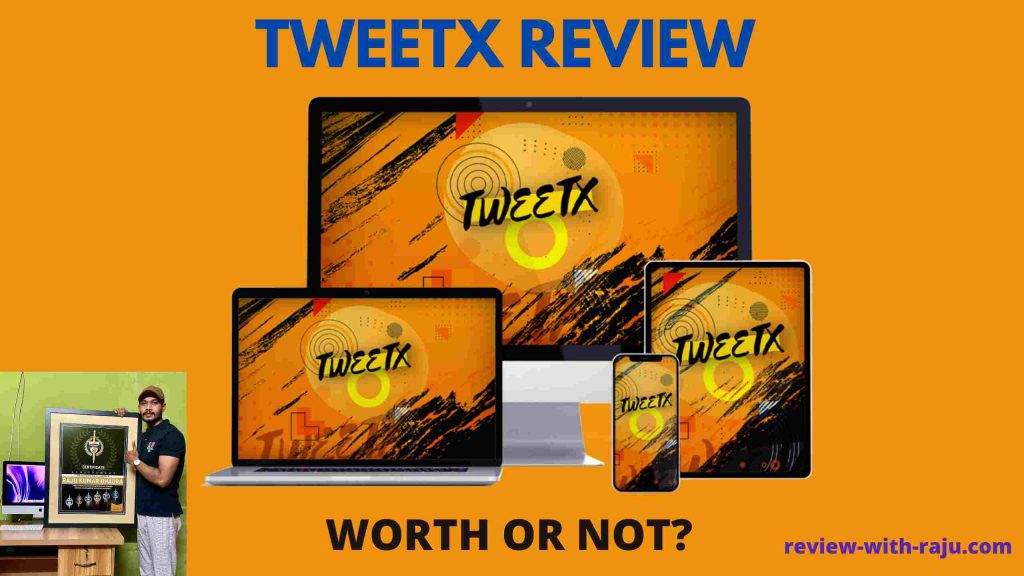 Introduction – TweetX Review
Welcome to my TweetX Review that is full of real information.
TweetX is a brand new Twitter marketing app. It released by Jono Armstrong. This 1 click app unlocks free traffic from 3330 million buyers. This app provides a Done-for-You offer and traffic from Twitter that can make $250+ per day. 
It's a push-button breakthrough for 2021. This new technology can generate autopilot untapped buyer traffic and make money online. You can promote any link to thousands of hungry buyer traffic. TweetX app provides DFY monetized campaigns that include an all0inclusive solution.
BUT, 
I see the sales promises. It's fine. Now, does it really works or not? It's the main factor. If you buy any software/app just reading/seeing sales pages then you can't get the right information. Inside my TweetX Review, I'm trying my best to provide solid info. I hope my review helps you a lot to make the right decision.
Summary of TweetX – TweetX Review
First, you have to know what is about this product. It's necessary to know what is this related to and do you need it or not!
Vendor: Jono Armstrong
Product: TweetX
Price: $17 (Front End)
Niche: Software
The Working System of TweetX?
According to TweetX sales page you can do everything in just 3 steps…
1 – Login & Target millions of buyers by niche or keyword.
2 – Watch the App instantly find you laser targeted traffic.
3 – Promote the built-in offers or your own for free leads & sales.
BUT,
No friends, it's not the ways to work the TweetX app. The hole online marketing process depended on a few key factors. First you need a proven funnel or offers to promote. Then you have to generate traffic. Otherwise younger make a single sales. If you can combines them then you can make sales and conversions.
TweetX is not a workable software. A lot of Done-For-You campaigns with built-in free traffic-related apps released in the Warriorplus marketplace. No software works anyhow to provide results. 
STOP! Why 100% Not Recommended? [Don't Buy]
-> TweetX is not a PROVEN & TESTED app that can bring traffic from Twitter, and make sales.
-> 1 click app never can drive traffic from 330 million buyers.
-> You can't make $250+ per day in just a 60-second setup.
-> Twitter marketing is not possible using any software/app.
-> TweetX never helped you generate passive income.
-> With TweetX, everything is automated. 100% Fake claim.
-> TweetX isn't the ultimate free buyer traffic loophole.
-> You can't rive highly targeted traffic in any niche … get more leads, customers & ultimately sales
-> A lot of ERRORS inside this TweetX app, it doesn't worth buying.
-> Jono Armstrong releases 2/3 products per month. If his product/software works for making money then why they release 2/3 products per month? I don't believe his fake claims.
-> All 6 upgrades/OTO's are also mandatory for getting full features of this software.
-> TweetX doesn't worth the price($17) for this front-end one.
-> This software doesn't work in just 3 steps. It's not a proven app for 2021.
I Highly Not Recommended anyone to buy this product. It's not workable software, it's for making you a fool.
My No #1 Recommendation: Start Your 6-Figure Affiliate Marketing Journey ($10,000/month)
What Elements Included Inside TweetX?
The TweetX App – 1-Click Autopilot Traffic:
Virtually unlimited FREE traffic, now at your fingertips.
Enter a single keyword & TweetX starts generating traffic from 330 million users on autopilot.
– Find & follow niche targeted users.
– Tweet your promos INCLUDING LINKS to thousands of buyers instantly.
– DM your hottest leads to skyrocket conversions.
TweetX practically turns Twitter into your personal free traffic source.
Five 100% DFY Campaigns – Instant Monetisation:
TweetX lets you promote ANY link you want: affiliate promos, eCom products, your own offers, lead pages anything.
To give you a massive head start whether you're a beginner or just want a FAST 2nd income stream.
You get 5 of our top-converting campaigns, completely done-for-you.
These plug & play evergreen offers are ready-to-go straight out of the box.
Many of our beta testers have got SAME DAY results from these.
The easiest way to turn free traffic into commissions!
Over-The-Shoulder Profit Training – Your Shortcut To Results:
Step-by-step videos walk you through using the app.
And SPECIFIC strategies for generating the most traffic & profit possible.
So if you're like most of our beta testers & don't know much about Twitter.
Don't worry because you're covered!
The app does 99% of the heavy lifting for you already …
Here you'll see how to unlock the best results from this untapped traffic source!
How to Get Free Traffic From Twitter?
Twitter is one of the popular social media networks for getting targeted audiences. Anyone can get traffic from Traffic. But you have to follow the right way. If you think TweetX software or any other software can do it then it's not possible. Don't depend on any bot for getting social media results.
If you want to get free Twitter traffic then you can follow these few ways….
Firstly, you can grow your Twitter profile first. That means day by day you have to grow your targeted audiences. Like Facebook, or Instagram, or other social platforms. If you can grow once then you can get results for a long time. In this case, if you want to get instant results then it's impossible. 
Top Traffic Secrets Here. Get Unlimited Free Buyer Traffic NOW >>
Secondly, you can get free Twitter traffic commenting on other people's posts. Simple see the trending and new post on your promoting niche. Then try to make a helpful comment. Inside your comment, you can recommend your promoting products/services.
Thirdly, you can direct message your targeted audiences. It's another way to get free Twitter traffic. But, I always prefer the first way, which means you can grow your profile. Then you can get traffic for a lifetime.
Does TweetX App can Make Money?
I don't see any options here to make money using this SCAM app/software. Now, you can ask why? I know you're thinking after buying this software you can easily make money online. But, do you think is it possible or not? Do you see any known people use this software and make money online?
No, t's impossible. No software can help you to make money online. This type of software already published in the various JUNK marketplace. I don't see any reasons to choose this software for starting Twitter marketing. If you can follow the right ways then you can get success otherwise this type of TweetX software just kills your invested money and time.
Most newbie marketers think to make money online is so simple. Just buying this type of software and applying it can make money. But, the reality is different. If it's as easy as Jono's fake promises then 100% of people can make money online. No friends, it's impossible. So, be aware of this type of software.
>> Check No #1 Affiliate Marketing Training Here >>
Should You Get TweetX App or Not?
Honestly, I don't see any cause to grab it. TweetX is not a black magic app that can make $250+ per day in just 60 seconds one-time setup. Actually, newbie marketers want to get instant online results without doing any hard work. For this reason, this typeof software releases in the Warriorplus marketplace. It's a 100% SCAM app.
You should not get TweetX app. You never get results using it. No software can provide Done-For-You campaigns with free traffic. Then if you think you can run your Twitter account using any software then you're not right. Twitter banned your account. If anyone run Twitter using any app then they get banned.
If you buy this app for making instant traffic from 300 million buyers then you are not right. You can get Twitter traffic for free, but you have to grow it gradually day by day. Using this type of software no one can get targeted traffic from Twitter. So, I can suggest you not purchase this SCAM software.
Final Opinion – TweetX Review
Finally, I want to suggest don't waste your money buying the TweetX app. It's not a beginner-friendly proven app to work. Using any software you can't get rock-solid traffic from Twitter. You just get banned from Twitter because of this SCAM app. It's not the real way to start Twitter marketing.
Like you every buyer of this app also use the same DFY campaigns. So, there is no chance to get results. No software can virtually drive unlimited free buyer traffic. You can't connect 330 million untapped buyers overnight by uing this app. Don't want tot get any point & click automation result. 
If you buy this TweetX app and apply it, then you never can earn passive money online. This software can't generate traffic. And without traffic online marketing is totally ZERO. So, your chances to get a result is ZERO.
Now, all decisions depended on you. If you think this vendor's claim is right then choose it and lose your money. Then if you really want to start an online business the follow the right way. Thanks for reading TweetX Review.
My No #1 Recommendation:
For Anyone Who Wants To Start A Profitable Online Business But Doesn't Know Where To Begin…
Start Your Hassle-Free Online Business and Make Big Commissions For A Lifetime. Take Action Fast. >> How I Make $10,000/Month For Free (Join for $7)>>
"If you have any questions about this review then don't hesitate to contact me MY FACEBOOK PAGE HERE"