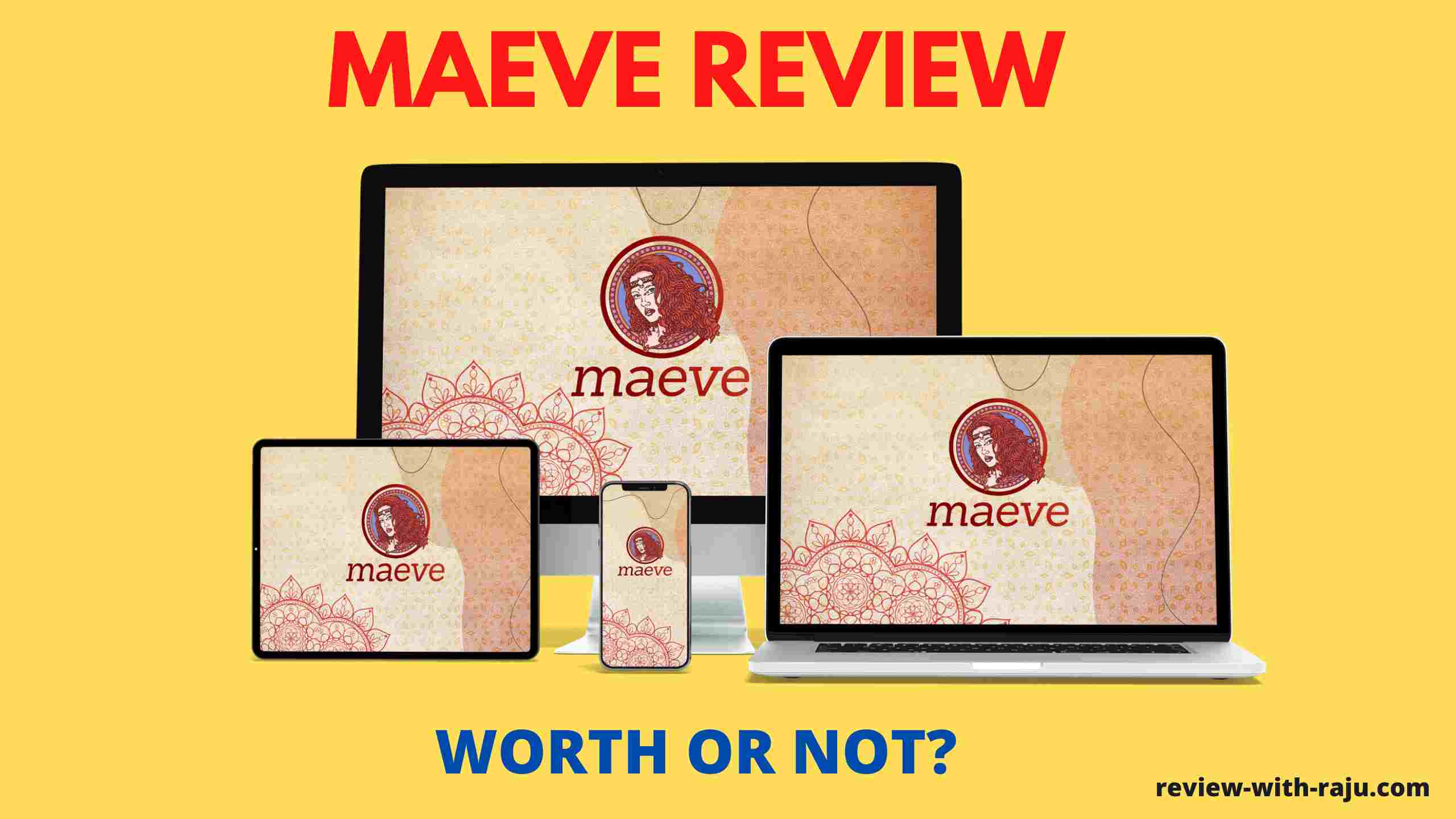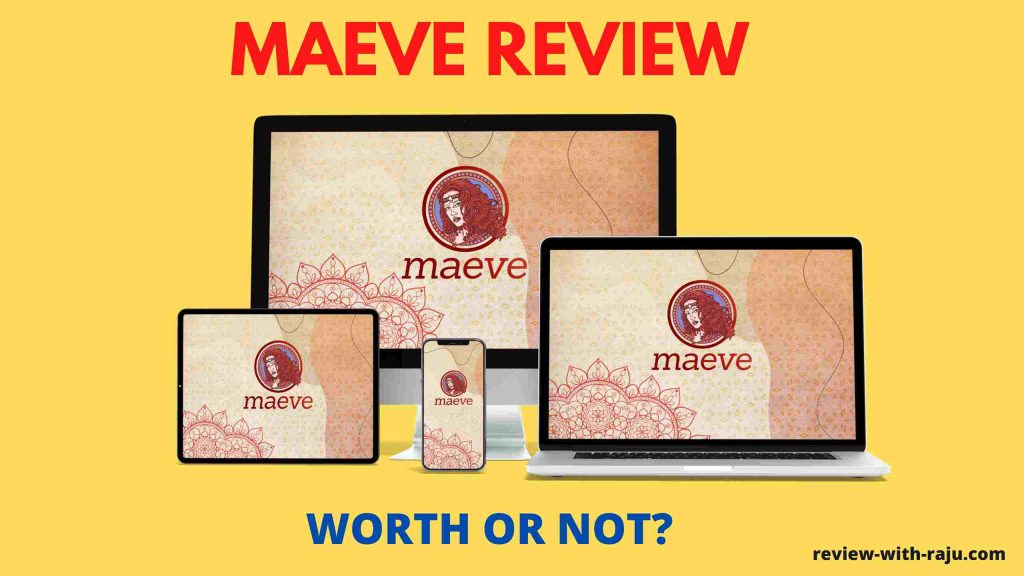 Intro of Maeve – Maeve Review
Welcome to Maeve Review & inside of the software.
Are you struggling to make money online? Do you think this loophole software helps you to make money? Don't take action before reading my review. I'll disclose everything. How it works, is it recommended or not, etc.
According to the sales page claims, Maeve is a secret loophole. It's a new artificial intelligence system. You can seat earning within 30 seconds. Just 3 clicks need to set it up.
These vendors claims, Maeve is Google's secret weapon. They generate over $1435 in daily affiliate commissions using this software. You don't need any list, website, and skills required.
BUT,
After getting review access I can't agree with them. No app/software can generate traffic. You can't tap traffic in your finger trip. Why Maeve software doesn't work, why I don't prefer this type of SCAM software.
I'll disclose everything inside my Maeve Review. I hope you get the best opinion to make the right decision.

Details of Maeve – Maeve Review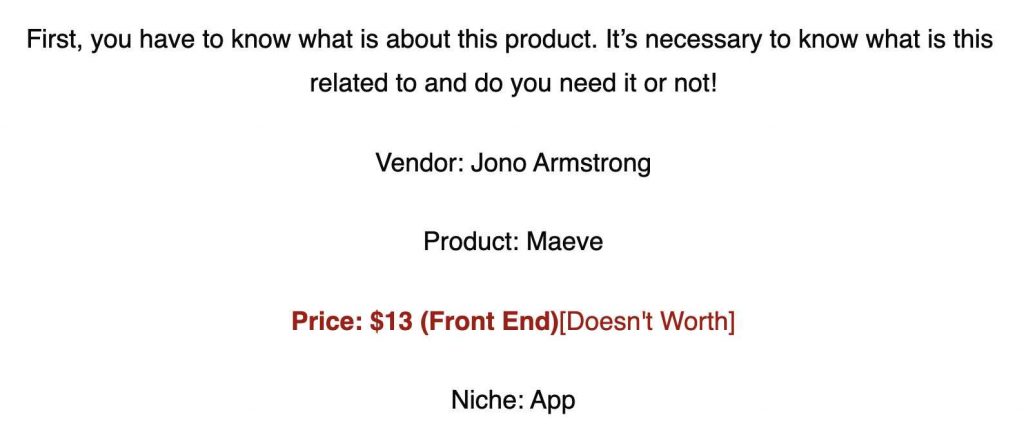 Maeve Review – What is Maeve?
Maeve is a unique system that capitalizes on a significant shift in the way that Google does business. 
For the first time, ever Google has consolidated its marketing assets including Gmail, YouTube, and Google itself to offer a One-Stop-Shop traffic generating system that is not well known by the general public. 
Maeve brings you a way to benefit from this shift using tutorials, case studies, and leading-edge software.
Maeve Review – Does Maeve Works or Not?
No. Maeve doesn't work. Why I'm so sure?
Okay, let me explain it, I'm working online for over 9 years. I personally know Mr. Jono Armstrong. He is a 1% vendor and 1% affiliate of W+. He also runs a high-ticket program 'Ministry of Freedom'. Do you think Jono earns his commissions using Maeve software?
NO. He releases 2/3 products per month. He makes review videos of various big launch products, and he has a lot of email/lead for email marketing. Then he never runs any software/bot to generate his affiliate commissions.
According to the sales page claims, Maeve software works like MAGIC. But, it's impossible my friend. This software helps you to create a review page of Jono Armstrong's various products with custom bonuses. Okay, fine. But, where is your traffic?
Do you have an email list, any google ranked website, or YouTube channel? How can you generate traffic? Here are no traffic solutions. Then if you only promote a few Jono's products then you never make big money online.
After all, it can't become your money solution. Find out proper ways, or systems to grow your online business and make commissions. Maeve is 100% not workable.

Does Maeve Solve The Traffic Problem?
No, my dear friend. There is no way to generate traffic using any software. Maeve app never generates traffic from Facebook, YouTube, or Google. Why This software can't solve the traffic problem I will discuss. Facebook, YouTube & Google these 3 ways is the King of online traffic. If you can handle these 3 ways then you'll be the King of online marketing. But Maeve app is unable to get traffic from here.
Maeve app helps you to build a bonus page with Jono's various products. Not other products. Okay fine. After creating the review/ bonus page your task has not been completed. You have to promote it. If your customers don't show it then who will buy your products? So, you just need traffic. But there are no free traffic sources.
If you want to get free traffic then no app can do it. After all, using an app or software you can't build your traffic empire. For getting organic traffic you have to build it day by day.
How to Generate Buyer Traffic for Free?
If you want to generate free traffic from Facebook, Google & YouTube then you have to grow it day by day. You can get instant traffic from here. Even using any software you can't get traffic from here.
If You want to get traffic from Facebook. Then you can grow your targeted friends. Or you can build your Facebook page or Group. After choosing your niche you can grow it gradually. It takes time to grow but if you can grow it once then you can get results for a long time.
Then if you want to get free YouTube traffic then you have to choose your niche first. Then try to make helpful content. Don't need to marketing anything. Try to help other people. If you can help other people then they love your videos. And inside your videos, you can promote your niche shortly. That's it.
Now, if you want to get Google Traffic then you gave to follow the same rules as YouTube. First, choose your niche. Then try to create helpful content. Inside your content push your recommendation. People always find the best opportunities. So, you can get targeted traffic and results.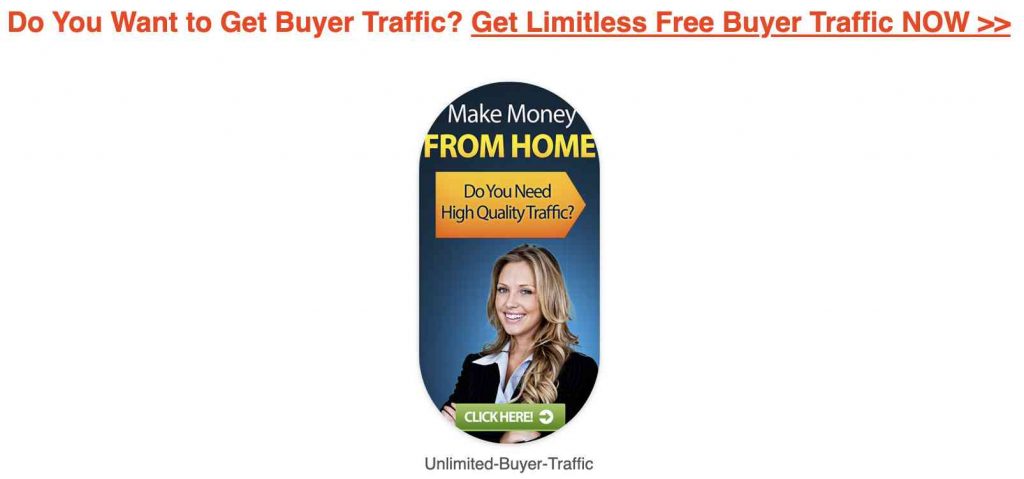 Maeve Review – What You Will Receive in Maeve?
Over The Shoulder, Step By Step Video Training – (Value $997)
They show you exactly how to use the Maeve system to generate $94, $647, and even $1,435 in daily affiliate commissions. They leave no stone unturned as they take you by the hand and show you exactly how this is done.
Cloud-Based Landing Page Builder Software – (Value $2,997)
Once you start generating traffic using the Maeve system you'll need to send it to an offer of your choice. This high-level, high-quality cloud-based landing page builder software will mean that the traffic will be translated to immediate sales. Usually, software of this caliber is charged at a hefty monthly fee, but not today. Maeve is selling for a one-time low fee.
Free Hosting Included – (Value $997)
The Cloud-based, landing page builder software needs to be hosted somewhere which is why they've decided to also offer high-quality hosting as part of the Maeve package. Hosting is usually charged at a monthly recurring fee but not today – They've included everything you need to get started profiting today within the Maeve starter package.
Read More – Maeve Review
Over The Shoulder Case Studies – (Value $997)
There is nothing like real live case studies to get you off to a flying start and that's what we did with Maeve. We've added real, over-the-shoulder case studies to make sure that you see exactly how to apply the system, step by step, for maximum profits.
4 Action Takers Bonuses – (Value $2,997)
– How To Earn Additional $100 Daily Posting Unlimited FREE Ads (Value $497)
– How To Get $100 Worth Of FREE Campaigns (Value $997)
– Then How To Get Multiple Passive Income Streams FAST (Value $497) 
– How To Make Money Rain, According to 3 People Who Do (Value $997)
But,
After all, inside this software, there are no traffic sources. Traffic is the lifeline of online marketing. If any method system doesn't provide the traffic system then that is totally valueless. Maeve software helps to build pages, provides bonuses but there is no traffic. It's the main lacking. And without traffic, you never make a single dollar commission.

Should You Buy Maeve Software or Not?
Of course not. When you don't get any results then why do you buy it? I don't see any benefits or reasons to choose it. 
Most newbie marketers want to get results fast. It's simple. But, no software can do it. Actually, they don't from where they should start. If you're serious about online marketing I humbly request you to choose the right track. Otherwise, you just lost time, money & energy. After that, depression binds you.
If you want to make commissions without doing any hard work then ready to see big ZERO results. I don't see anyone who can earn money without doing any work. Random software or app never make money, then 100% guys can do it.
If you want to scam up your online business you should learn online marketing first. You can check every vendor or affiliate profile. Then you see they never depended on any software/app. They are working for generating traffic. And traffic is the power. 
I don't prefer this app. The no.1 reason is traffic. No traffic sources here. After buying this SCAM software you can realize your fault. So, don't make a wrong decision.
Final Opinion – Maeve Review
In my final verdict, don't waste $13 to make instant commissions. It never presents a window of money-making opportunities. No software can work on autopilot. Don't want to get autopilot results without doing any hard work. It's not easy to get autopilot results. It depends on your traffic sources.
Maeve software never utilizes any secret loophole. In the case of online marketing, there is no loophole. Try to follow the right ways, work hard, and get results. Otherwise, an app/software can help you to get autopilot results. 
Maeve system with the software never drives massive traffic to any niche. You never generate a single-dollar affiliate commission. It never works in just 3 steps. If you want to get online results with a simple set up then leave this market. You can't do anything ever. 
So, friend do you want to buy Maeve software? If yes then buy it, or if you don't then check my no.1 recommendation and get the real online marketing success guideline. Thanks for reading my Maeve Review. Best of luck.