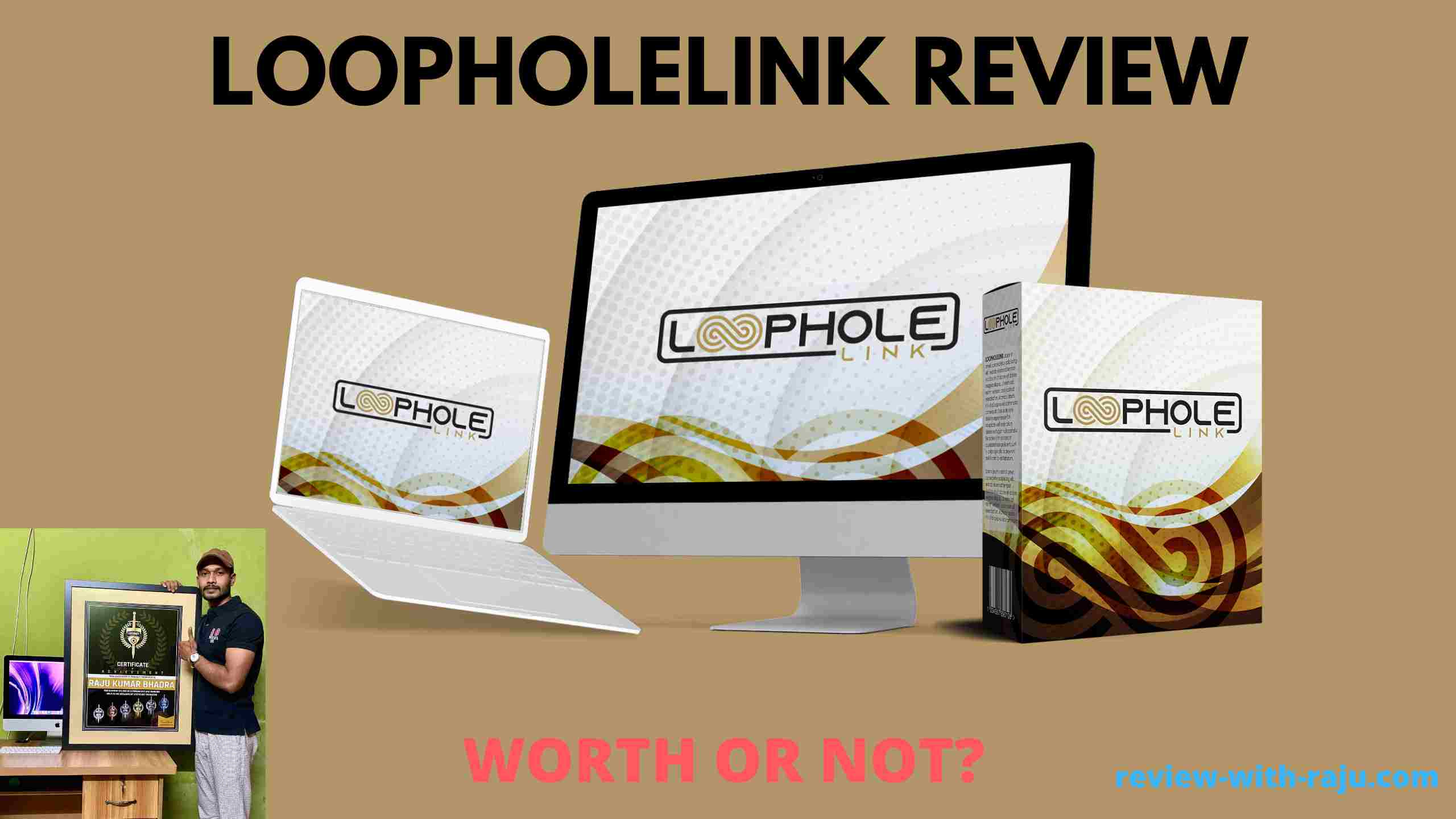 LoopholeLink Review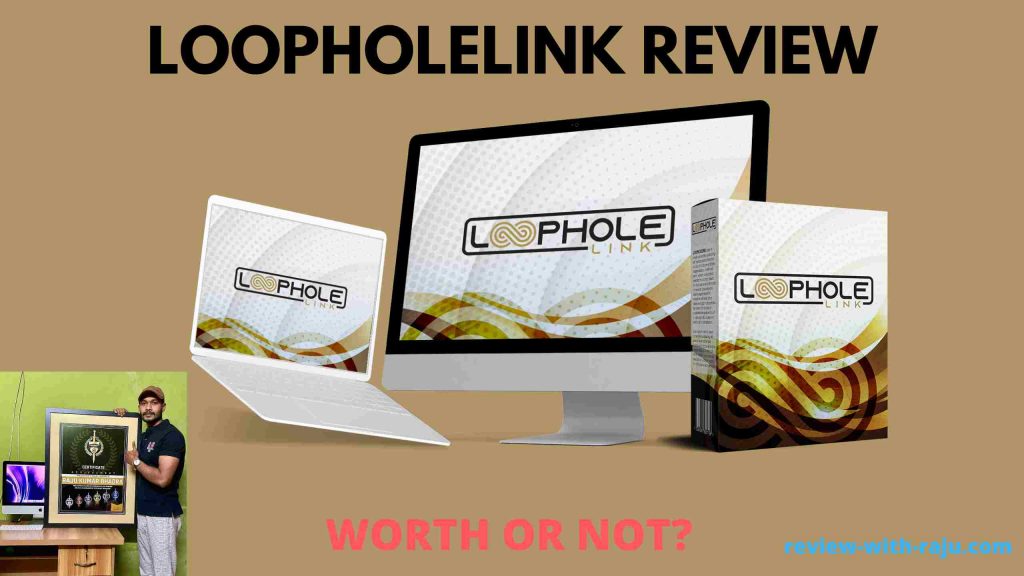 Introduction of LoopholeLink:
Welcome to my LoopholeLink Review. Get my honest opinion about this app.
As the demand of the vendor LoopholeLink is the World's 1st breakthrough app. It can tap into a $436 billion dollar traffic loophole. It's 100% legal, anonymous, & untapped. 
In just 30 seconds, you can start mass-promote any links for free buyer traffic. You can make a minimum of $371 or more per day passively. 
After all, the LoopholeLink app can autopilot buyer traffic in just 30 seconds, works in any niche, achieve financial freedom. So, do you interested to get this LoopholeLink app?
Wait a bit friend, Do you think any software can help you to promote any links? Okay, first you have to know it. Does this app works or not. Inside my LoopholeLink Review, you can get solid & legit info about this app.
Summary of LoopholeLink – LoopholeLink Review
First, you have to know what is about this product. It's necessary to know what is this related to and do you need it or not!
Vendor: Branson Tay
Product: LoopholeLink
Price: $17 (Front End)
Niche: Software/App
What's The Working Process of LoopholeLink?
According to the sale page, you're just 3 steps away to get unlimited traffic, & massive paydays. Let's see these 3 steps.
# 1 – First you have to purchase this LoopholeLink App.
# 2 – Login & Enter any link, website, or funnel where you want to send traffic. This takes 30 seconds or less …
# 3 – Sit back & relax as the software gets you unlimited, free buyer traffic. Watch sales pouring in on autopilot.
I personally don't see this type of traffic app ever before. If this type of app can generate massive free buyer traffic then why people build a website, make YouTube videos, or ever run paid ads for getting traffic. So friends, what're you thinking?
Yes, this LoopholeLink app doesn't work anyhow. There is no software on the internet that can drive unlimited free buyer traffic in just 30 seconds. So, the working process of the LoopholeLink app is BOGUS.
STOP! Why 100% Not Recommended? [Don't Buy]
-> LoopholeLink is not a PROVEN & TESTED traffic app of the $436 billion dollar industry.
-> No traffic app can generate unlimited traffic in just 30 seconds.
-> You never make $371 per day passively using this LoopholeLink traffic app.
-> LoopholeLink is not a new never-seen-before traffic solution.
-> No App can make passive sales on autopilot.
-> LoopholeLink never provides results faster & quicker.
-> You can't rive highly targeted traffic in any niche, get more leads, customers & ultimately sales.
-> A lot of ERRORS inside this LoopholeLink traffic app, it doesn't worth buying.
-> Branson Tay releases 2/3 products per month. If his product/software works for making money then why they release 2/3 products per month? I don't believe his fake claims.
-> All 6 upgrades/OTO's are also mandatory for getting full features of this software.
-> LoopholeLink doesn't worth the price($17) for this front-end one.
-> This software doesn't work in just 3 steps. It's not a proven traffic app for 2021.
I Highly Not Recommended anyone to buy this product. It's not workable software, it's for making you a fool.
My No #1 Recommendation: Start Your 6-Figure Affiliate Marketing Journey ($10,000/month)
LoopholeLink Review – What's Included Inside LoopholeLink?
100% Fresh NEW LoopholeLink Software – Push 1 Button to "Mass-Promote" ANY link to $436 Billion Dollar Buyer Pool for Unlimited, FREE Buyer traffic & sales in 30 seconds. (Worth $197/Month Or $2,364/Year)
Step-By-Step Training Videos – In these in-depth, over-the-shoulder training videos, you'll see how everything works inside of the LoopholeLink software. (Worth $197/Month Or $2,364/Year)
$247 In 24 Hours Real Life Case Study – You're going to see the exact steps they took to generate $247 within 24 hours using nothing but LoopholeLink to get traffic. (Worth $197)
5 Ways To Make $500 Daily With LoopholeLink – Once you've picked up your copy of LoopholeLink you may be puzzled about what to do next. That's why they've created a guide that details 5 surefire ways to make $500 daily. (Worth $297)
Mastermind Community Group – Get access to a community of like-minded individuals to network with for tips and questions. (Worth $497)
24/7 World-Class Support Team – Have any questions or need help? Don't worry as our world-class support team got you covered and ready to help you whenever, wherever you want. (Worth $497)
Actually, it's not the proper way to make money online. This type of software and training never learn you about making money. If you follow this app then you never fill this sales page's claims. So, I can say LoopholeLink included some valueless elements here.
How to Get Buyer Traffic Without Using Any Software?
Traffic the most VITAL factor of online marketing. You must need the traffic to make sales and commissions. But, if you run various software to get traffic then you can't see any traffic interface anyhow. For this reason, you have to build your traffic sources first without depending on any app. Let's see how to get free buyer traffic without using any traffic app.
My favorite free traffic is website traffic. That means Google search organic traffic. First, you can choose your niche then you can build a website. After all, you have to create helpful content inside your website that helps other people. 
Then you can make YouTube videos for getting unlimited free traffic. As the alike website, you have to create various helpful videos on YouTube to get massive buyer traffic. It takes time to grow a YouTube channel but if you can grow it once you can get results for a lifetime.
Continue Reading – LoopholeLink Review
Top Traffic Secrets Here. Get Limitless Free Buyer Traffic NOW >>
Now for getting free buyer traffic you can start social media marketing. You can share the various helpful infographic, Motivations images, of your niche-related images on Facebook and Instagram. Then day by day you can grow your targeted buyer. Then you can create Facebook pages, or groups to grow your targeted traffic.
Even you can make TikTok videos to grow your targeted audiences. TikTok is a fun app but you can grow tour targeted audiences too. You can grow your brand making short TikTok videos.
Then you can get free traffic using the Quora Platform. Quora is a questions & answers site. Some people questions here and some people answer these questions. Inside your answer, you can recommend your promoting offers/products/services. 
So friend, if you can follow any of the ways then you can generate free buyer traffic for a lifetime. Don't focus on any traffic app. No app can help you to build your free traffic sources. 
>> Check No #1 Affiliate Marketing Training Here >>
LoopholeLink Review – Why People Should Love LoopholeLink?
I don't see any reasons to love this app. If you buy this software that not means you can get buyer traffic in just 1 click. No software can tap into you the $436 billion dollar traffic Loophole. It's not the real way to get buyer traffic with cash in hand and ready to buy.
You can buy the App that not means you see the profit wave. You just buy it, then you can apply it for a few days but it's not the biggest profit wave. If you follow the right way to get traffic that not means you have to cost monthly fees. This type of software doesn't work for any niche. 
If you want to get instant results applying this app then you're in the wrong place. No app/software, method, or system can help you to get instant results. If you can follow the right traffic tracks then day by day you can get free buyer traffic, otherwise not.
Buying LoopholeLink Is a Lose Invest or Not?
If you choose the LoopholeLink app then you have to invest very first $17 for the front end. After getting the member's area you have to buy another 6 upset for getting the full features of this app. So, you have to invest more than $300+ dollars. Okay, it's fine if this software is workable.
If you invest any money then you must need to get some benefits. If the LoopholeLink app works as its claim then you can invest money here. But, unfortunately, no software/app can generate free buyer traffic. Now, think about it, is it a right investment or wrong? Of course WRONG. 
So, friends, I can assure you you just lose your time and money using this LoopholeLink traffic app. No one can drive traffic in 60 seconds. Why you believe these fake promises to buy this app. Follow the right ways to get traffic. Otherwise, you just lose your time and money day after day. 
It's my real-life experience. I'm working here for the last 9 years. I don't want anyone to lose their valuable time and money.
Final Opinion – LoopholeLink Review
Finally, I want to say DON'T invest your money here and there. I don't see any positive signal inside any app. An App can design, edit, customize, etc type of task, but no app can generate traffic anyhow.   It's not an ingenious traffic loophole strategy to get free buyer traffic & sales.
The LoopholeLink is not a developed and proven app for getting results. Just showing the fake income screenshot you can't buy this app. Here is nothing untapped system that can get $436 billion dollar company traffic. Don't need to believe this type of fake claim.
Then one more important thing, if you want to grow your traffic sources then focus on one niche. If you think you can get any niche traffic at a time it's impossible. So, you have to focus on one niche. This type of SCAM app claims that it can generate traffic for any niche. It's a 100% fake promise. 
So, friends, it's my honest opinion about the LoopholeLink traffic app. If you believe me then you can save your money, otherwise, you'll lose your money. Anyway, make the right decision and get results. Thanks for reading my LoopholeLink Review.
My No #1 Recommendation:
For Anyone Who Wants To Start A Profitable Online Business But Doesn't Know Where To Begin…
Start Your Hassle-Free Online Business and Make Big Commissions For A Lifetime. Take Action Fast. >> How I Make $10,000/Month For Free (Join for $7)>>
"If you have any questions about this review then don't hesitate to contact me MY FACEBOOK PAGE HERE"
Review Source Here