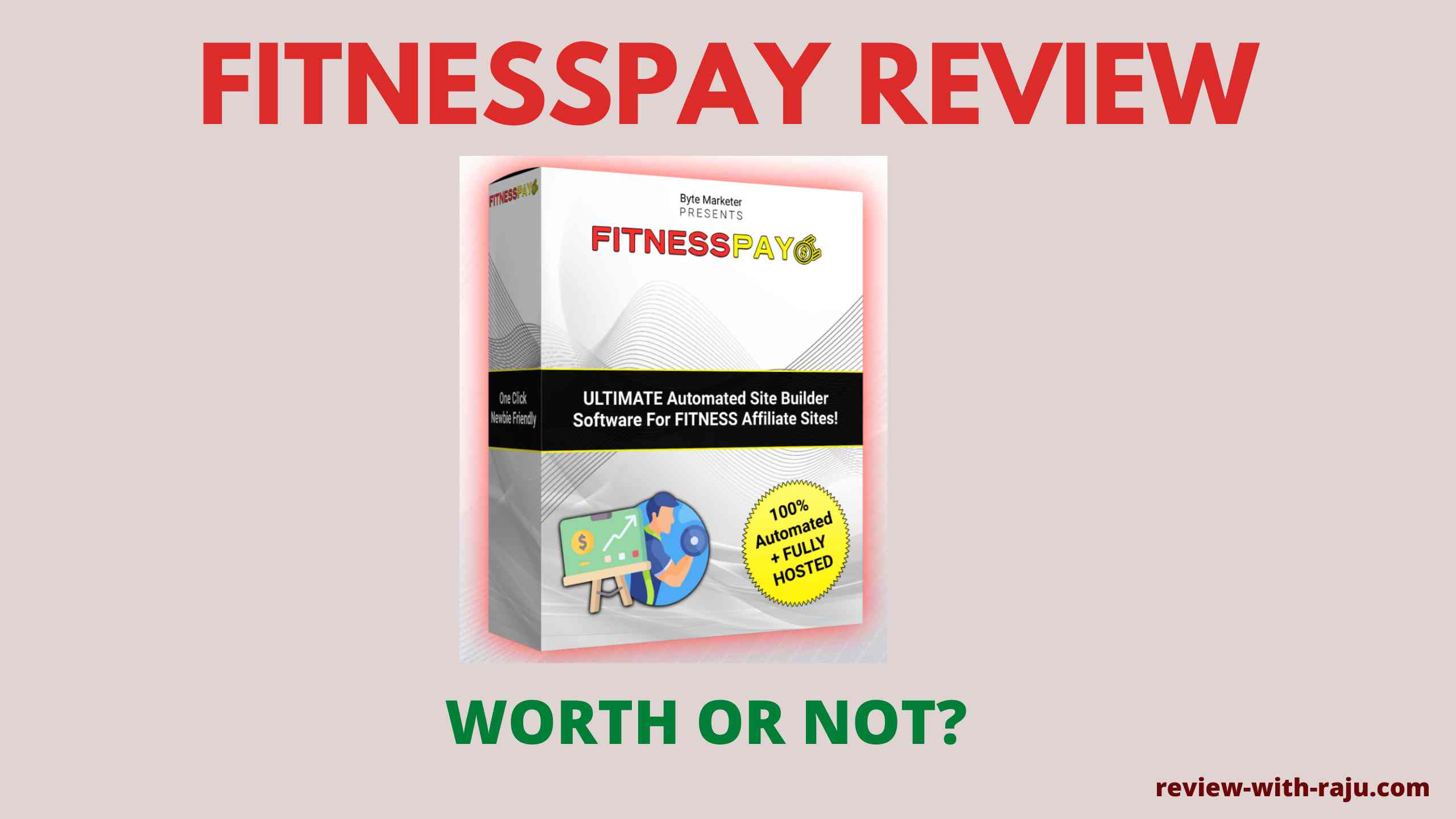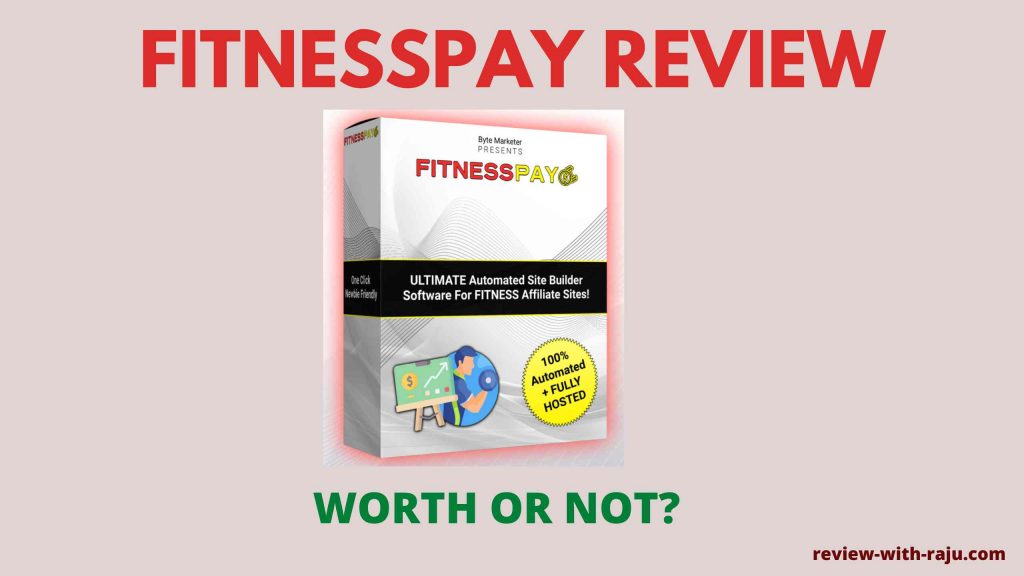 Introduction of FitnessPay – FitnessPay Review
Welcome to my FitnessPay Review & see the opinion of a beta tester.
As per the sales page claim, FitnessPay is web-based software. It can create fully automated 100% done-for-you fitness affiliate sites. You can become an overnight superstar affiliate for a famous fitness niche and make affiliate commissions.
With FitnessPay you can create your fitness affiliate sites very easily. You just log in to the web-based software, choose your site name. This software is fully automated with dozens of high-converting content. 
BUT,
I do not agree with the vendor and his fake claims. No software can create a done-for-you fitness affiliate and it never provides you high-converting content. It's not the proper way to build a fitness affiliate site. I personally hate this type of SCAM software. 
I find out a lot of issues inside the software. Even I also share how to create perfect fitness affiliate sites. I have a weightless affiliate site. I'll share my honest opinion inside this FitenessPay Review.
About FitnessPay – FitnessPay Review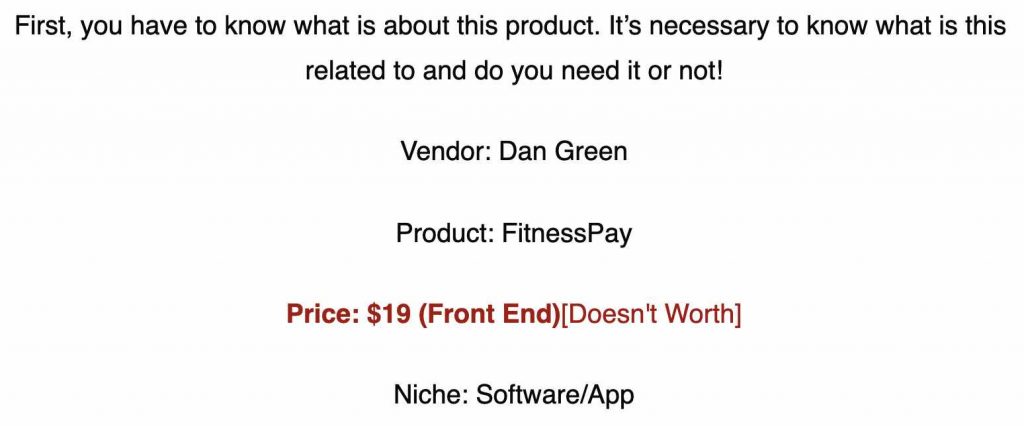 Does Fitnesspay Build Any Affiliate Site?
Why not? But, these affiliate sites are workable or not, it's the main factor. I have never seen any software that can build any affiliate site in any niche.
Do you know how difficult to get rank on Google? Suppose you can build an affiliate site using Fitnesspay software. But, it's not the solution for making fitness products selling. How do you get traffic if you don't get rank on Google?
Using any software no one can build a perfect fitness affiliate site. First, software-made content is valueless. Then the software-made site is incapable to get Google's rank. Then people don't prefer software-made content.
After all, Fitnesspay app/software can't build any affiliate sites in minutes. It's not the real process to build any fitness affiliate sites. If you think this software helps you to get fitness products selling then you're not right.
FitnessPay Review – Can You Make Money with Fitnesspay?
No. I'm 90% sure Fitnesspay software never helps you to make money online. Fitness is one of the super-competitive niches. Using any software no one can make fitness affiliate sites. It's not the proper way to build a fitness affiliate site. If you check any fitness keyword in Google search then you can realize it. You can find thousands of Affiliate sites. So it's so high competition here.
If you want to make money with fitness affiliate sites. Then you have to build your sites properly. You have to follow the right guild line of expert marketers. A lot of proven training programs are available on the internet. Then you have to follow the rules of the Google search engine. Don't think Fitnesspay software does everything for you.
When I started my weight loss website I was thinking I'll get results within 3/4 months. But, it takes over 9 months to get results. A lot of people work with health, fitness, bodybuilding, beauty niche. Now everybody works in proper ways. So, If you depend on any bot/software then you can't get results.
So, I don't see any chances to make money with Fitnesspay. But, if you follow the right track then it's possible. Forget this type of scam software first!

FitnessPay Review – How to Build a Fitness Affiliate Site?
A fitness affiliate site is the evergreen source of passive income. It takes time to grow. But, once you can start getting the traffic you can get it for a long time. So, building a fitness affiliate site is not as easy that you can make it within a few minutes. If you don't follow the rules and regulations of Google search results then you never get rank on Google. Then no rank = no traffic = no sales.
Now, you can think about how you get content to build your affiliate sites. Okay, don't worry I'll share it. I have a weight loss affiliate site. And I just share my personal experience here. I'm getting results from my weight loss Affiliate site. If you can follow me then you can build and get results like me.
For getting content, you can watch YouTube videos first. Then get the content idea. After that, use the transcript of YouTube videos as your website post content. That's it. One of the simplest ways to get content.
Then you can get content on Quora. It's a question-and-answer website. A lot of fitness-related questions here. You just get an idea about your topic and make a post.
I personally do these ways to get my weight loss content. But, mind it this type of fitness website never grows overnight.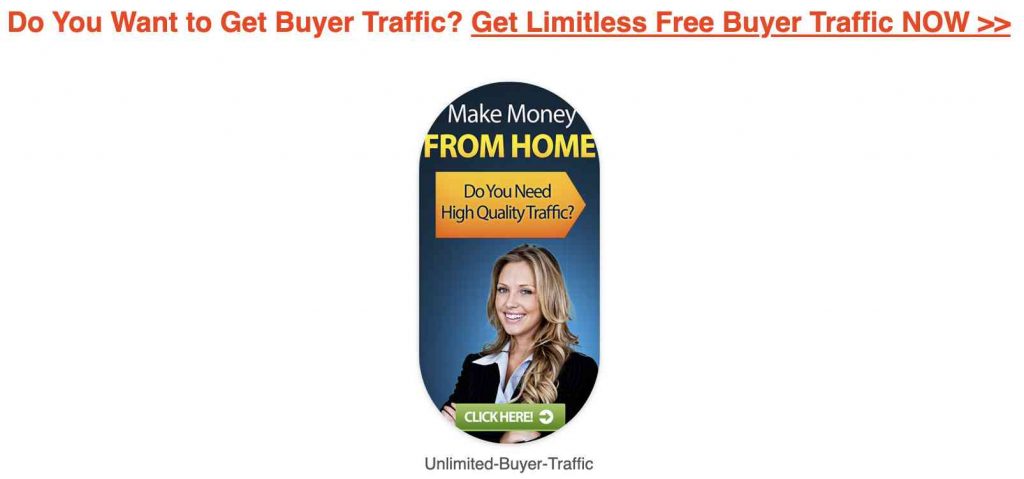 Does Fitnesspay Software Worth to Buy or Not?
I don't see any reasonable causes to buy this software. If you ask me why? Let me explain my opinion.
Dan Green is one of the renowned vendors in Warrior plus. He releases 2/3 products per month. He releases this type of software that can build various Affiliate sites. If you check his profile then you can observe it.
A few days ago, he released crypto affiliate site-related software. He already released affiliate marketing sites, crypto, eCom sites, etc. But, unfortunately, people fail to get results using his software. Now, say how can I say Fitnesspay is a worth able software? No, friends, it's not a perfect software to get fitness affiliate sales.
The main problem is software-made content has no value in the Google search engine. If you don't get rank on Google then your site is totally useless. You don't get any traffic to make sales.
Final Thoughts – FitnessPay Review
Finally, I want to say DON'T BUY FitnessPay software. It's not a perfect solution to create a fitness affiliate site. You can create a site but it will be a valueless site. You never get Google rank and no traffic with it. This type of software this vendor release every month. So, don't need to choose it and lost your hope.
Just a simple equation, if any software can build an affiliate site than no-one buy domain, hosting, and write content to create an affiliate site. If you want to get results overnight then it's not possible. If you lose your time applying this type of scam software then you never get results.
I just share my honest opinion. I don't see anyone who can create an affiliate site using this type of so-called automated software. So, forget to get instant results. Try to follow the right ways to get online success.
Anyway thanks for reading my FitnessPay Review. Have a nice day!